Wedding Arch Flowers
The wedding arch is one of the most romantic features to adorn your wedding day. It creates an elegant focal point to frame the marriage ceremony and provides a stunning backdrop for memorable photos and videos.
Wedding arbour flowers are also an excellent way to represent the theme of your wedding flowers and set the tone for your guests. What begins as a graceful blank canvas can be decorated in a variety of ways, from lace and greenery to ribbons and most traditionally, flowers. The materials you choose reflect your taste, style, and wedding theme to create an exquisite scene.
The Versatility Floral Wedding Arches
A floral arch at your wedding is delightfully versatile and can achieve many things.
A wedding arch will add glamour and romance to your special day. Positioned as a focal point, your guests will feel captivated by your theme as they arrive and get swept up in the enchantment of your wedding day.
It serves as an elegant ceremonial space that respects the beauty of your vows and love for each other. It frames your first moments as a married couple for your family and friends.
Wedding floral arches can also provide a beautiful place for the bridal party to enter and exit the ceremony. They also serve as a transition between the ceremony space and the reception area. This can be especially useful if there's a distance to walk between locations, or if guests need to move from one area to another during cocktail hour.
Additionally, floral wedding arches create a picturesque backdrop for photos and videos. Everyone can snap an idyllic and memorable image in front of wedding arbour flowers.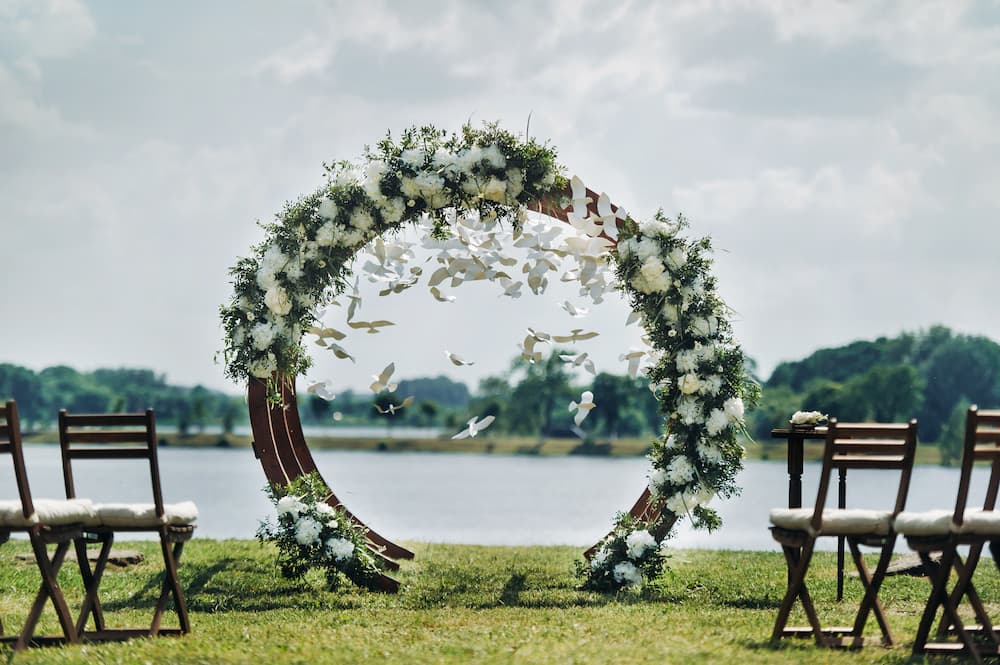 Wedding Arch Flower Arrangements
There are many different styles of arches available, but the most popular ones are those that are covered with real flowers on an open frame made out of wood or metal.
The wedding arch can be entirely covered with seasonal blooms or hang asymmetrically. At East End Wedding Co we can place flowers, fronds, and decorations strategically to create a bespoke design or match your theme.
Our creative design team is excited to work with you (we love a bride!) to bring your wedding dreams to life and can assist you with seasonal bloom choices as well as lush greenery, or native options. We can also incorporate ornaments if you wish, such as pomanders, silk butterflies, lanterns, or fairy lights to create that touch of magic.
East End Flower Co. Specialise in Floral Wedding Arches
East End Flower Co. understands everything you need to know about wedding arch flowers. If you're looking to set the tone for your wedding with a stunning arch, our flowers are a beautiful way to do it.
We start by making sure you choose the best type of flower for your wedding and finish with the perfect focal point backdrop to delight your guests. They're simple to build and easy to transport to our Newcastle CBD and Hunter Region weddings.
If you want to bring your ceremony site to life, contact East End Flower Co.