DOES EAST END FLOWER CO DELIVER?
Yes we do! We accept orders until 12pm Monday to Friday and until 11am on Saturday or until our delivery capacity is reached for each day.

WHEN ARE WE OPEN?
We are always open online, orders can be placed 24/7.
We are open in store 9.00 – 5 pm Monday to Friday, 9 – 2pm Saturdays, CLOSED Sundays.

DO YOU OFFER SAME DAY DELIVERY?
Yes, we sure do! Orders for same day delivery must be placed before 11am (AEST) Monday-Friday, and 11am on Saturdays. We will accept orders until our driver capacity is reached.

WHAT HOURS DO WE DELIVER?
Normal flower delivery hours are between 9am and 5pm, Monday to Friday. There are limited deliveries on Saturday. We do not deliver on Sundays or public holidays.

EAST END FLOWER CO DELIVERY FEES?
Standard delivery to most Newcastle suburbs is $16.50.
Some distant suburbs beyond our delivery map can possibly be arranged and are between $20-30 depending on the distance.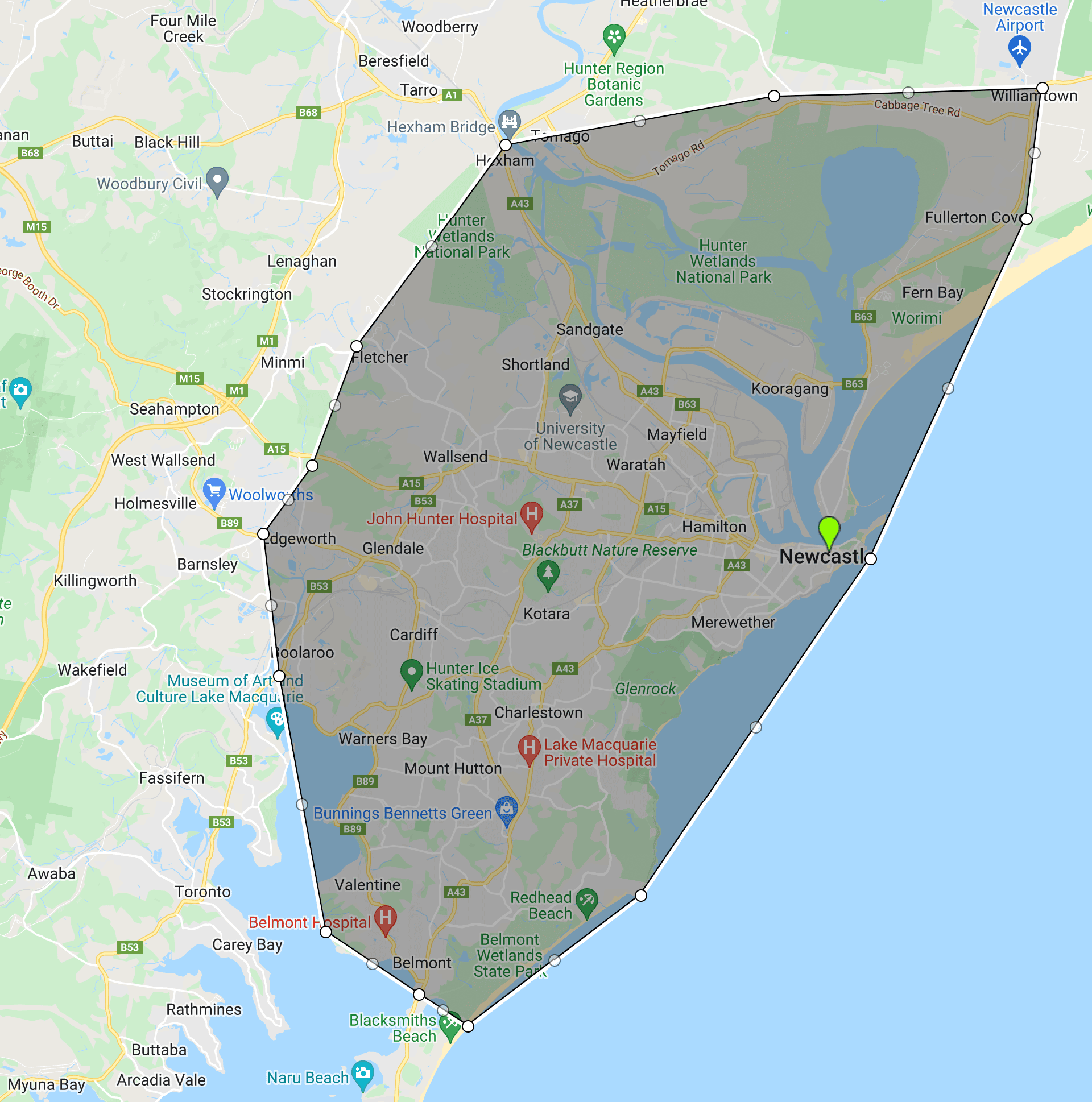 WHAT IS THE DEADLINE FOR PLACING AN ORDER ONLINE TO GUARANTEE SAME DAY FLOWER DELIVERY?
Need flowers delivered today? For delivery on the same day in Newcastle, orders must be placed by 11am (AEST) Monday – Friday and by 11am (AEST) on Saturday to guarantee same day delivery excluding Public Holidays or until capacity of delivery is reached.

WHAT AREAS DO WE DELIVER TO?
We deliver throughout the greater Newcastle area. See above map to view a full area of the Newcastle suburbs we deliver to.

CAN YOU GUARANTEE A SPECIFIC TIME FOR A FLOWER OR GIFT DELIVERY?
We cannot guarantee a specific delivery time. We will make every attempt to fulfil your request but cannot guarantee it.
All orders to businesses will be delivered by close of business.

DO YOU RING THE RECIPIENT PRIOR TO DELIVERY?
You can request us to call the recipient prior to delivery by putting a note in the "delivery notes" field on the order page. We may call a recipient, when necessary, to ensure your delivery runs as smoothly as possible.

WHAT HAPPENS IF THE RECIPIENT IS NOT AT HOME?
If the recipient is not home when the delivery is made the flowers or gift will be left at the recipient's front or back door, if requested to do so by the sender; or if our experienced couriers deem it safe to do so.
If the gift cannot be left safely, we will contact you to work out a solution.
Additional charges may apply.

WHAT HAPPENS IF THE DELIVERY DETAILS SUPPLIED ARE INCORRECT?
East End Flower Co will attempt to find the correct address.
If the flowers are delivered to the address supplied by the customer and the address is incorrect additional charges may apply to remake the flowers and arrange a re-delivery.
Please make sure the address is correct when you order and check the order confirmation email when it is received.

WHAT HAPPENS IF I WANT TO MAKE CHANGES TO MY ORDER?
Please call us as soon as possible. We will make every effort possible to fulfil your requests. This is not possible if the order is already out for delivery.

CAN EAST END FLOWER CO LET ME KNOW WHEN THE FLOWERS HAVE BEEN DELIVERED?
At this stage East End Flower Co is unable to provide tracking services for your order. An approximate ETA and POD (proof of delivery) can be provided on request.

ANY OTHER QUESTIONS?
Should you have any queries, please don't hesitate to contact us at enquiries@eastendflowerco.com or call us on 02 4989 9758 and we will gladly assist you.