Bespoke Flower Girl Baskets For Weddings
Bespoke Flower Girl Baskets For Weddings
That moment! The music starts. All heads turn and the procession of the flower girl begins.
Everyone loves the moment the flower girl heralds the bride's arrival at the ceremony by scattering petals from her basket. What bride doesn't want to arrive to that joyful atmosphere, paved by petals, from the flower girl basket on her wedding day?
Wedding flowers are a symbol of love, beauty, romance, and protection and flower girls usher in the entire wedding party with this beautiful symbolism and tradition.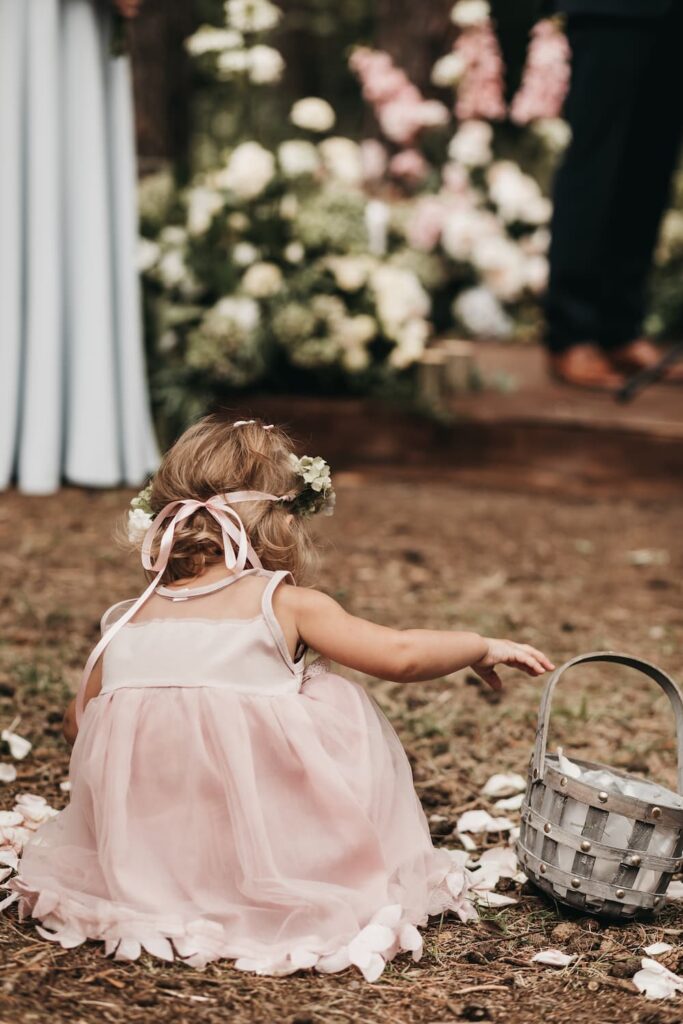 Bespoke Flower Girl Baskets
Flower girl baskets are a beautiful way to elevate the wedding ceremony. East End Flower Co baskets come in different sizes and shapes to perfectly complement the style of your big day and the age of your flower girls.
Traditional Flower Girl Baskets
The traditional, white satin flower girl basket is classic for a reason – they are timeless. These traditionally shaped baskets are delicate in size and weight and perfect for little hands to carry down the aisle easily. They hold the perfect amount of blooms and can be adorned with ribbons, beads, or lace for that touch of elegance.
It is often an object that will be kept well after the wedding as a treasured memento to remind you of your special day.
Rustic flower Girl Baskets
Rustic weddings are often held outdoors or at countryside venues so our rustic flower girl wire baskets are embellished with natural materials like pine cones, wheat sheaves, dried flowers, and leaves. The unique baskets add a touch of natural elegance to your wedding decor.
Themed Flower Girl Baskets
Whatever theme you have for your wedding, our talented floral design team can customise your flower girl wedding basket and petals. We are skilled in all aspects of floral design so as to create stunning arrangements for any wedding venue.
We also source as many products from local merchants in Newcastle and the Hunter Region.
Pomanders
If you're looking for something with a delightful twist at your wedding, consider using pomander flower balls for your flower girls. We design these delightful spheres using a variety of flowers to create a customised pomander in keeping with the theme of your wedding day. They are so joyful.
Flower Girl Accessories
East End Flower Co wants you to have the wedding of your dreams, so please ask us about flower girl crowns or headbands for the youngest members of your bridal party. Our floral design team anticipates working with you to bring your vision to life.
Each bride has individual needs when it comes to choosing her flower girl basket because she wants something that reflects who she is and what kind of wedding she wants to share with her loved ones. East End Flower Co is delighted to help.
Book A Consultation.